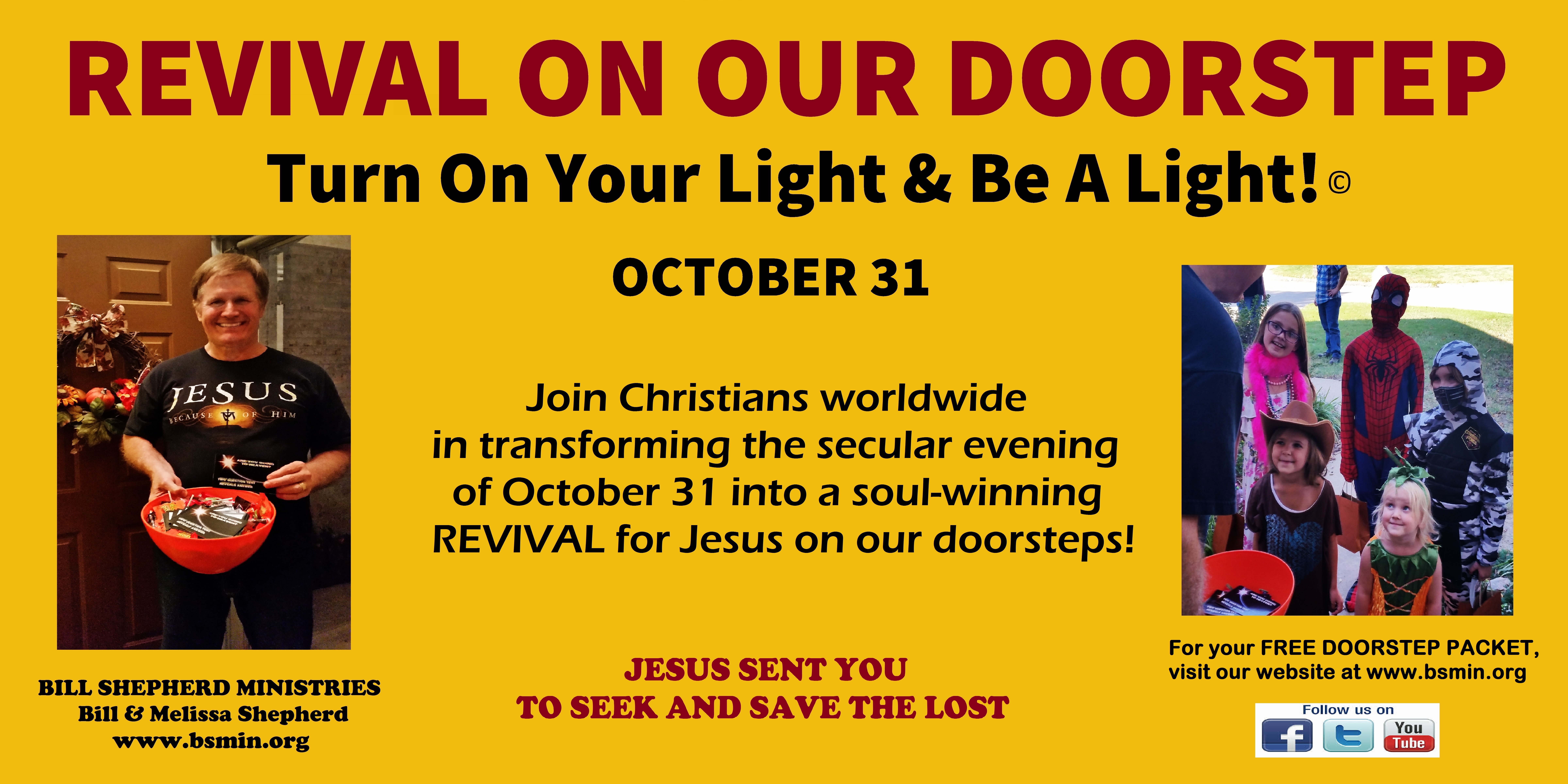 ONE NIGHT.....millions of Christians....leading millions to JESUS!

MANY CHILDREN know more about aliens, ghosts, magic, ninjas, wizards, zombies, superheroes, vampires and witches than they know about God's love, the Bible or the supernatural saving and healing power of Jesus and the Holy Spirit. You have a great opportunity to reach out to this generation of children who are born for the last days revival! The spiritual desire and ability of children to receive Jesus is amazing!

LAST YEAR ON our doorstep on Halloween evening, from 6:30 pm to 9:00 pm we had a REVIVAL ON OUR DOORSTEP! ™ We prayed with 72 children and 7 parents to receive JESUS in their hearts! We also gave them a Gospel tract, good candy and invited them to church! It was so heartwarming to see the children and parents smiling and even crying as the Lord touched them at our doorstep as we prayed with them. One mother asked us to pray for her 10-year-old son who was at home very sick. This mom cried big tears as we prayed for her son and sweetly said, "Thank you for caring enough to pray." As we watched her tears, we were reminded of what Jesus said, "Whoever in My name and for My sake accepts and receives and welcomes one such child also accepts and receives and welcomes Me and whoever so receives Me receives not only Me, but also Him who sent Me." Mark 9:37 Children are so ready to receive Jesus! The children's eagerness to pray would often inspire their parents to join in with their prayers! For your FREE doorstep packet that shows you the gentle loving way we reached out to children, just CLICK below on the yellow box.

THIS IS THE ONLY night of the year when many children and parents voluntarily walk up to our doorsteps, under the covering of our Christian prayers and on our blessed property, ready to receive Jesus! We are Jesus' representatives and we have every constitutional right to share Jesus on our own doorstep! OVER 68 million children and 22 million parents will come to our doorsteps on the evening of October 31. That is 93% of all children ages one through 17. JESUS insisted, "Allow the children to come to Me, do not forbid or prevent or hinder them, for to such belongs the kingdom of God." Mark 10:14

WE LAUNCHED REVIVAL ON OUR DOORSTEP on October 31, 2015 and Christians in 20 states and 5 countries have prayed with over 3,000 children and parents to accept Jesus, gave out 9,000 Gospel tracts and invited over 12,000 neighbors to church. Join in with Christians and churches across America in this new annual event and launch your revival on your doorstep on October 31! If you would like to help coordinate this event in your area or at your church please call us at 918-355-0059!
AGREE IN PRAYER with us, that Christian homes will lead millions of children to receive, love and follow JESUS! Please pray for this exciting new annual event called: REVIVAL ON OUR DOORSTEP!™ Turn On Your Light and Be A Light!™ It is time for Christians to transform the evening of Halloween and change it into a soul-winning revival for JESUS on our doorsteps!


We have put together a
FREE DOORSTEP PACKET
to email to you. If you would like your
FREE DOORSTEP PACKET, just CLICK on the yellow box below.
The packet will provide you with the gentle, loving and enthusiastic method we used at our home to lead 65 children and 13 parents to Jesus last Halloween, which may be used anytime of the year. You can easily invite children and parents to church, give them Gospel tracts, and share Jesus with them on your doorstep. Jesus sent you to reach the children of this generation! John 20:21




INTRODUCTION TO REVIVAL ON OUR DOORSTEP VIDEO
REVIVAL ON OUR DOORSTEP TRAINING VIDEO
MARK 9:37
Jesus said, "Whoever in My name and for My sake accepts and receives and welcomes one such child
also accepts and receives and welcomes Me and whoever so receives Me receives not only Me, but also Him who sent Me."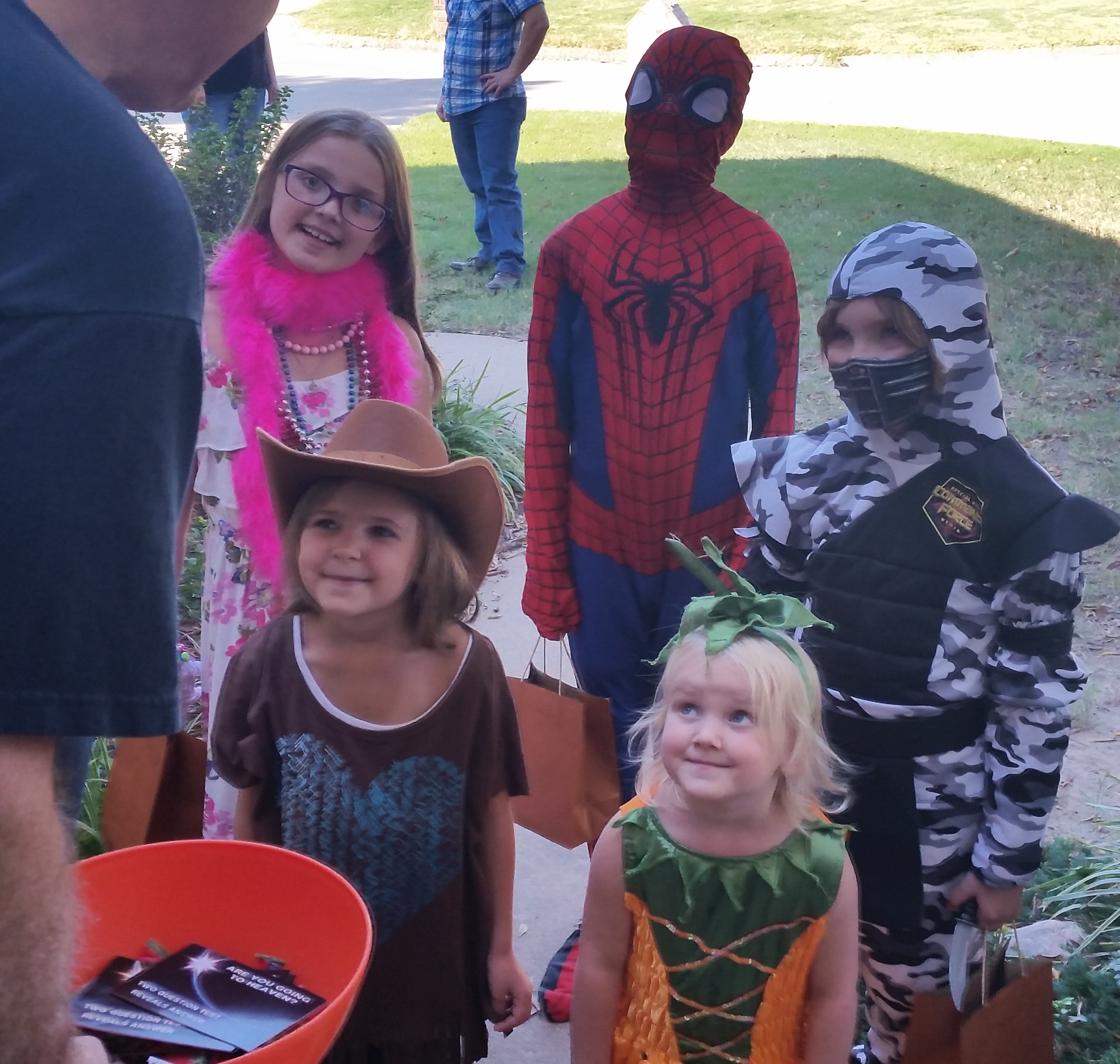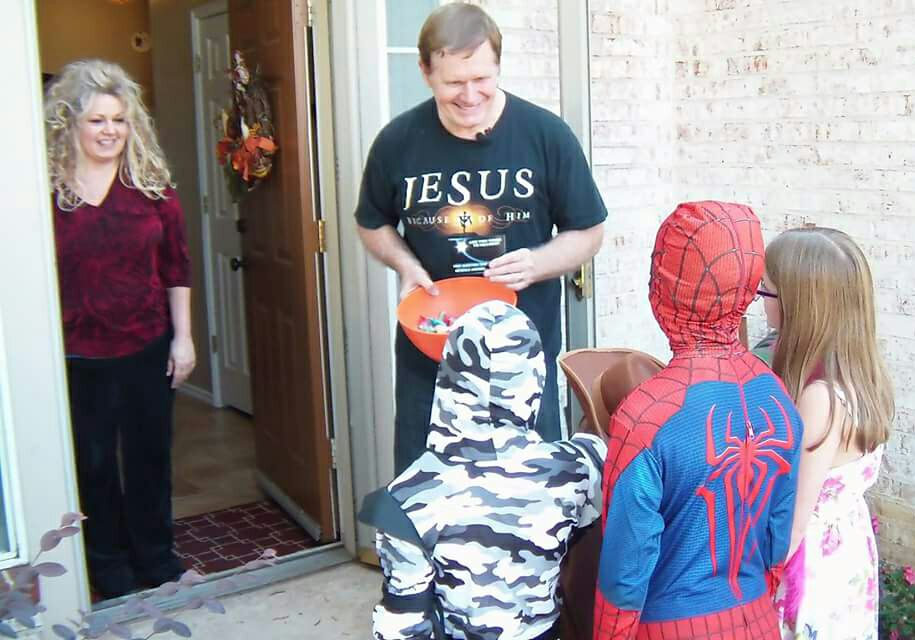 LIKE US ON FACEBOOK AT: REVIVAL ON OUR DOORSTEP and at BILL SHEPHERD MINISTRIES
FOR INFORMATION ON HOW TO DO THE REVIVAL ON OUR DOORSTEP OUTREACH EVENT:

CONTACT OUR MINISTRY

BILL SHEPHERD MINISTRIES
BILL AND MELISSA SHEPHERD
PHONE: 918-355-0059





Give a donation to Bill Shepherd Ministries